The School Supply Giveaway was first held in 2003 and has continued annually. At the time, communities were just starting to face the rising fuel and food prices that continue today. The number of students served each year grew slowly, or not at all in the early years, but in 2008 160 students were served. It has served over 300 students from up to 20 districts per year in the last several years. We also give God the glory as we have noticed that other communities are now doing their own school supply drives. We pray this mission can continue to be a blessing to many again this summer.
All of the items are donated. 100% of all monetary donations go toward the purchase of supplies. We try to purchase as many of the items locally as possible. The drive is supported by individuals, churches, clubs, organizations and business in Jefferson County. Families that come to the drive do not have to show proof of income and they do not have to live in this community or Jefferson County. By helping the families with free school supplies, they can use their money towards meal tickets, books and other clothing needs. It's a joy to see the student's faces as they pick up their new supplies.
Donations are accepted all year long. Lots of volunteers are needed on the day of the drive and we never turn help down. It takes all of us from different communities, working together, to help those families that need assistance. If you know of a club or organization in your community that would be interested in learning and or getting involved in this project, please call 785-945-6757 or send an email to office@valleyfallscc.org.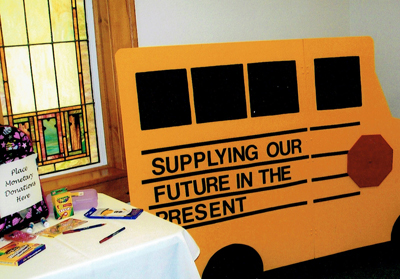 2019 Supply Drive
The 2019 School Supply Giveaway will be held from 8am to 12pm on Saturday,August 3 in the Valley Falls Christian Church fellowship hall at 511 Oak Street.
If you or your group or organization are interested in donating or volunteering, please call 785-945-6757 or send an email to office@valleyfallscc.org.
The drive serves students from pre-k and kindergarten through high school. A printable list of basic supplies can be found here, but supply lists found on school websites will provide a more detailed list.
Donations can be taken to the Valley Falls Christian Church Monday through Thursday, from 1-5 p.m. Please call 945-6757 to make sure someone is there to receive them. They can also be mailed to Valley Falls Christian Church, 511 Oak St, Valley Falls KS 66088